SILVER STAR FLAG ®

SILVER STAR BANNER TM

THE NAME "SILVER STAR SERVICE BANNER" IS TM

Copyright 2004-2010

All Rights Reserved

The Silver Star Banner and Flag is in no way connected to the Silver Star Medal

The Silver Star Families of America is a non-partisan, not-for-profit charitable organization committed to supporting the United States wounded and ill military members and Veterans from all wars, past and present,  and honoring their sacrifice with Silver Star Banners.Content within this web site is the sole property of  The Silver Star Families of America" All photos and letters sent to the SSFOA become the property of the organization to be used in any way we deem appropriate."

SSFOA reserves the right to conduct the day to day business of the organization as they deem appropriate. SSFOA does not and can not offer monetary or legal assistance, due to the nature of our IRS filings, it is a violation of our by-laws and mission, SSFOA cannot assist anyone in this manner.

While the SSFOA attempts to exercise due care, we are not responsible for the performance, accuracy or content of external links or individuals we offer as referrals.

All materials, ideas, projects etc made for the SSFOA while you are a member becomes SSFOA property. State Coordinators and Reps will be chosen at the discretion of  SSFOA National Headquarters. SSFOA is an all volunteer 501(c)(3) tax exempt nonprofit public charity organization. See your tax advisor. For more info on deductions see:
http://apps2.irs.gov/charities/contributors/index.html
Questions/Comments Pertaining To This Web site
CONTACT US
SILVER STAR BANNER DAY 

ILLINOIS

Governor signed at State level

City Level

Addison

Aledo

Barrington *

Beach Park

Bedford Park *

Belvidere *

Bolingbrook *

Bradley *

Buffalo Grove *

Burbank *

Carol Steam *

Chicago Ridge *

Collinsville *

Des Plaines *

East Moline *

East Peoria *

Elk Grove

Evanston *

Geneva *

Germantown Hills *

Glenview

Greensboro *

Harwood Heights

Hickory Hills *

Hoffman Estates *

Justice *

Lake Forest

Lake Zurich *

Lisle *

Lombard

Macomb *

McHenry *

Monee

Morton Grove *

Mount Prospect *

Naperville

Niles *

Normal

Northbrook

North Chicago

North Lake *

Oak Forest

Oswego *

Orland Park

Palatine *

Palos Hills *

Pekin

Peoria

Rockford

Rock Island

Romeoville

Round Lake

Russell

Schaumburg *

Skokie

Springfield

Streamwood

Swansea *

Taylorville *

Village of Roselle *

Waukegan

Wheaton

Wheeling

Wilmington

Woodstock *

Worth *

Zion *

County Level

Cook *

DeKalb

Du Page *

Lake *

McHenry *

Sangamon *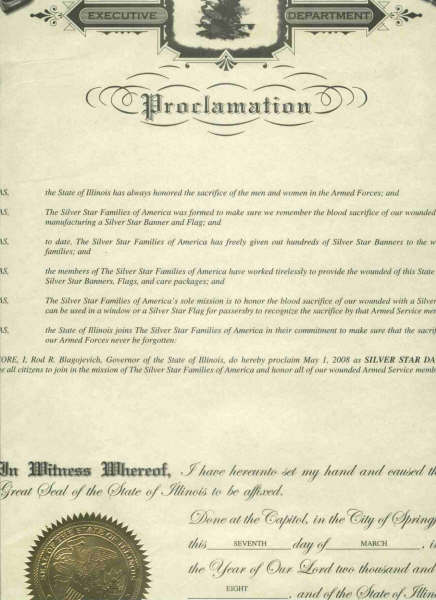 SSFOA LINKS

.....................................................................

SILVER STAR FAMILIES ILLINOIS


Silver Star shining for sacrifice, honoring wounded, ill and dying members of our Armed Forces, and bringing remembrance to those so deserving of our thanks.

We will never forget . . . WELCOME HOME!

WELCOME

SILVER STAR FAMILIES OF AMERICA is dedicated to supporting and assisting the wounded, ill and dying veterans and active duty troops and their families of ALL Branches of Service and ALL Wars. Our goal is to recognize the blood sacrifice of wounded servicemembers and injuries or illness that originated in a war zone, including, Purple Heart recipients, victims of friendly fire, those who suffer from PTSD, Agent Orange effects and Gulf War syndrome. We are also advocates for the Wounded and assist in educating the public concerning their plight. SSFOA is a member of America Supports You and is working together with other ASY organizations to support our wounded service members in the way they deserve. SSFOA is a VA Volunteer Service Advisory Board member.  Membership is FREE and includes Newsletter, and access to the Yahoo Boards. Membership is open to all.

Please join us as we honor or wounded and ill service members in Illinois.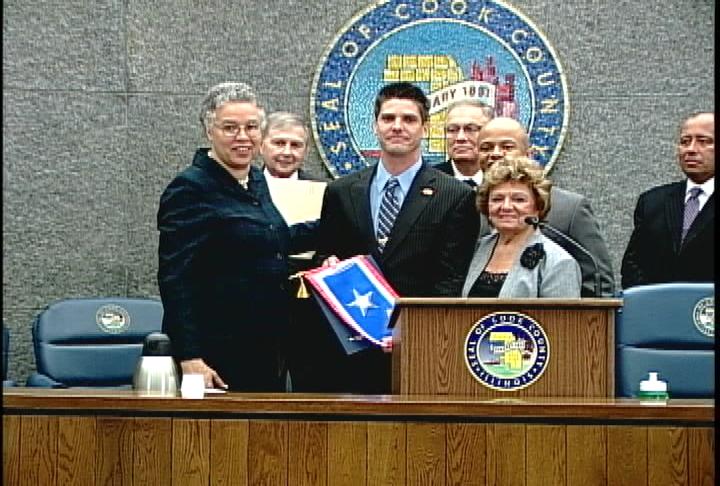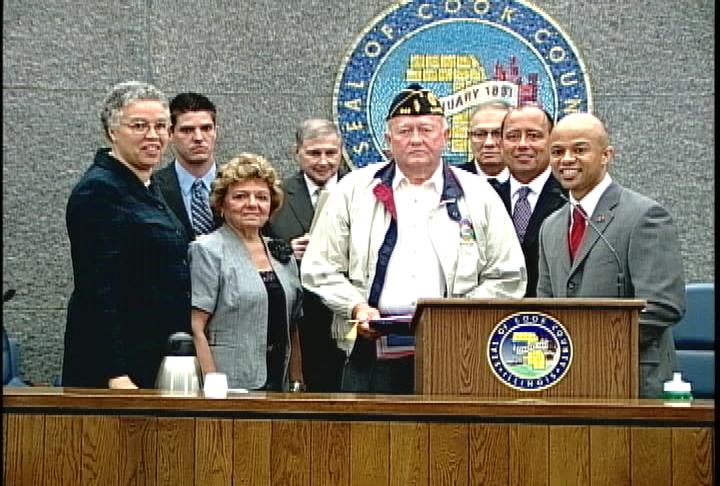 Silver Star Banner Day at the Cook County Board meeting of June 14, 2011 was a great success.  It was very gratifying to see the joy of the honorees, their families, and the other vets who came to witness the presentation.  The Cook County Veterans Assistance Commission and the President's administration planned a very dignified and memorable ceremony and reception.  Thank you for making it possible. 

Attached are the frame grab pictures from the banner presentation:

Still 1 – Sgt. Jerry Ilchena

Still 2 – Cpl. Peter Kukurba

Still 3 – Cpl. Patrick Caplis

Still 4 – HMCM. Grey Rather

Best regards,

Mary Doherty

Legislative Analyst

Office of Commissioner Murphy