Copyright 2005-2010

All Rights Reserved

Content within this web site is the sole property of

The Silver Star Families of America

"All photos and letters sent to the SSFOA become the property of the organization to be used in any way we deem appropriate."

SSFOA reserves the right to conduct the day to day business of the organization as they deem appropriate. State Coordinators and Reps will be chosen at the discretion of

SSFOA National Headquarters.

SSFOA is an all volunteer 501(c)(3) tax exempt nonprofit public charity organization

Questions/Comments Pertaining To This Web site,
CONTACT US
Welcome to The Silver Star Families of America in Florida

SSFOA is a non-profit 501 c 3 tax free organization, who depends on fund raisers and donations to meet the needs. Our national headquarters is located in Clever, MO

Our mission is to honor the wounded and ill servicemembers. Wounded and ill of all war generations that were in a combat zone, this also includes PTSD and Agent Orange. We do this by presenting them with a Silver Star Banner and Certificate of Appreciation.

The Silver Star Families has many different programs to help and assist our wounded heroes.

One of the goals is to have 5000 cities sign proclamations to set aside May first 2009 and every year thereafter to be Silver Star Day to honor our wounded. We have had many governors sign proclamations. Our state of FL has signed the last two years and we have seven cities that have signed for next year.

Please consider joining SSFOA with us in Florida and continue to see our wounded and ill service members receive recognition and honor in our state.

SILVER STAR BANNER DAY 2009

See press

SILVER STAR BANNER DAY  FORIDA CITIES

Governor signed at State level

City Level

Belleair Beach *

Boca Raton

Clearwater

Cocoa

Coconut Creek *

Delray Beach

Dania Beach *

Dunedin *

Eustis *

Hollywood

Largo

Longwood *

North Redington Beach

Palm Bay

Pembroke Pines

Pinellas Park

Port Richey *

Redington Beach *

Redington Shores *

Tarpon Springs *

Tampa

West Palm Beach

Winter Haven

Zephyrhills

County Level

Pasco

Polk

Hernando

  April28, 2009

Silver Star Family Day Resolution

The Board of County Commissioners proclaimed May 1, 2009, as Silver

Star Family Day in Hernando County to honor the wounded and ill Service Members of Hernando County. Hernando County expressed their appreciation of the Silver Star Families of America and honors their commitment to our wounded and ill Armed Forces members. Hernando County encourages everyone to remember that the sacrifices of so many in our Armed Forces should never be forgotten.

....................................................

SILVER STAR SHINING FOR SACRIFICE

SSFOA LINKS

.....................................................................

SILVER STAR FAMILIES FLORIDA

Letter from City of Largo, Florida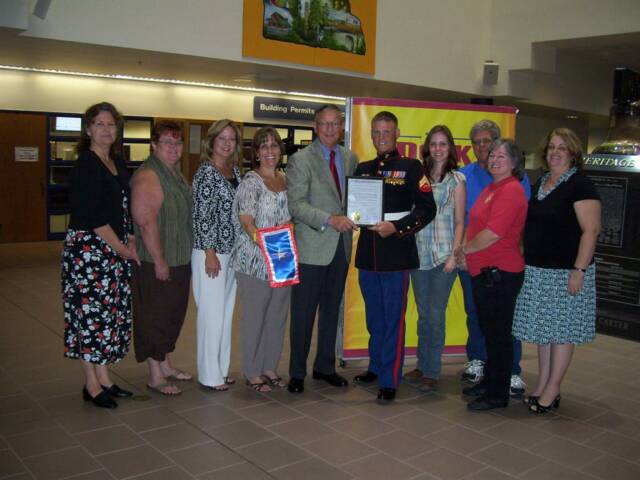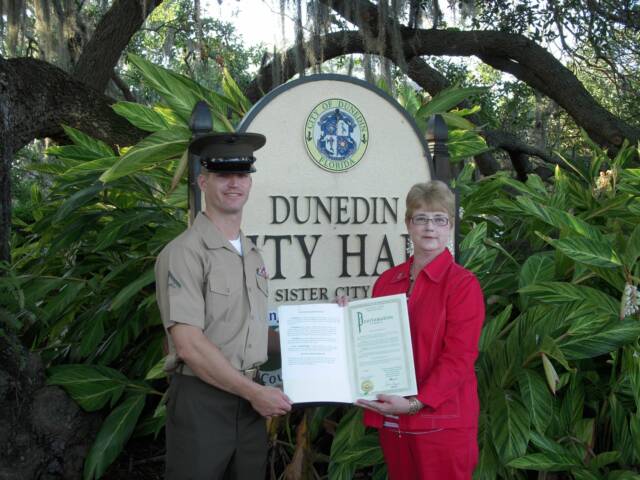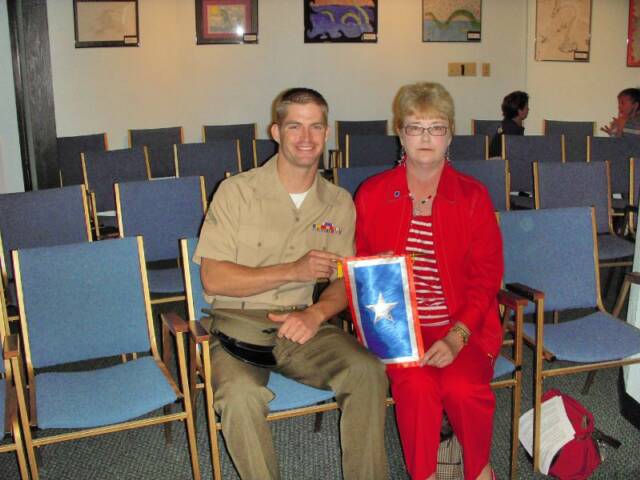 Silver Star shining for sacrifice, honoring wounded, ill and dying members of our Armed Forces, and bringing remembrance to those so deserving of our thanks.

We will never forget . . . WELCOME HOME!

Georgeine Marbeiter, Florida