WELCOME to Silver Star Families California

WELCOME Silver Star Families in California

State Coordinator Kathy Landess

I serve as SSFOA State Coordinatore for California and have been involved with military support activities for over 26 years. My support of our troops began as a way to honor my fiance who was KIA in VietNam. Through the years I have had hundreds of penpals, ranging from raw recruits up to Colonels, in nearly every service branch.

Besides SSFOA, I belong to and am associated with: StarSupportMilitary Group, Adopt-a-Soldier/Adopt-a-Platoon, Operation Military Pride, Soldier's Angels and co-coordinate of Operation: Mail Support, a penpal program.

I happened to find SSFoA's website by accident and very soon realized that I wanted to belong to this organization. Supporting our military is important, but supporting/honoring our wounded/our vets is even more so. I feel very privileged to be part of the SSFOA cause and all the wonderful people in the group.

Please use the form to contact me. I will be happy to help you honor our wounded and ill service members of California.

Respectfully,

Kathy Landess

......................................................................................................................

Silver Star Banner Presentation for AJ Debuno

by CA SSFOA Joyce Orrell

I attended the Porterville City Council Meeting to receive the SSD Proclamation. The Mayor personally presented the proclamation to me and allowed me to make a presentation. I briefly told about SSFoA and our mission, displayed the banner and distributed some brochures. Things were very well received by the Council and approximately 30 members of public attending the meeting. During my presentation, I spoke about working on getting the banner recognized by Congress and made the comment "as we all know, working with Congress can be challenging". After I was through with my presentation, the Mayor said "well, besides the proclamation, we can help you a bit with the Congress part as Congressman Devin Nunes' (21st District) representative is in attendance tonight and I'm sure he will be happy to give you his card." Sure enough, this individual popped up out of his seat and I know have Nunes' Director of Constituent Services' contact info. Another individual in the audience, told me who the best person is to talk to in Nunes' office, too. So it was a very productive evening.

SILVER STAR BANNER DAY  CALIFORNIA CITIES

Governor signed at State level

City Level

Alameda *

Albany

Antioch

Arcadia

Atwater *

Barstow *

Brentwood

Burbank *

Camarillo *

Capitola

Carson City

Cathedral City *

Chino Hills

Clovis *

Concord

Coronado

Costa Mesa

Covina *

Cupertino

Dana Point *

Danville *

Del Mar

Dixon

Dublin

Encinitas *

Fairfield *

Fontana

Fountain Valley *

Fremont

Fresno

Fullerton

Gardena

Garden Grove *

Gilroy

Glendora

Grover Beach

Haywood

Healdsburg

Hercules

Highland *

Huntington Beach *

Indio

Lafayette

Laguna Hills

Laguna Niguel

Lake Elsinore, *

Lancaster *

La Palma

La Puente *

LaMesa

Lemon Grove *

Lemoore *

Livingston

Los Angeles

Madera *

Manhattan Beach

Maywood *

Millbrae

Milpitas

Monterey

Mountain View *

Murrieta

Newport Beach *

Newark

Novato *

Orange

Pacifica *

Palm Desert

Palm Springs

Palo Alto

Paso Robles

Petaluma

Pico Rivera

Pleasant Hill

Pleasanton *

Porterville

Port Hunememe

Poway *

Red Bluff

Redlands

Reedley *

Redondo Beach

Redwood *

Ridgecrest *

Ripon *

Riverside *

Roseville

Salinas *

Santa Clara

San Clemente

San Diego

San Gabriel *

San Pablo *

San Ramon

Santa Barbara

Santa Cruz

Santa Rosa *

Seal Beach *

Signal Hill *

Simi Valley *

South El Monte *

South Pasadena *

Suisun City,

Temecula

Ten Thousand Lakes

Tustin

Upland *

Victorville *

Vista

Walnut Creek

Wasco

Watsonville

Westminster *

Whittier *

County Level

Butte *

Calaveras

Colusa

Glenn  *

Inyo

LA County

Lassen

Marin *

Mariposa

Merced *

Modoc *

Mono

Napa

Nevada

Orange * 

Placer

Sacramento

Shasta

Sonoma

Stanilaus *

Tehama *

Ventura

.....................................................

SSFOA LINKS

.....................................................................

Copyright 2005-2010

All Rights Reserved

Content within this web site is the sole property of

The Silver Star Families of America

"All photos and letters sent to the SSFOA become the property of the organization to be used in any way we deem appropriate."

SSFOA reserves the right to conduct the day to day business of the organization as they deem appropriate. State Coordinators and Reps will be chosen at the discretion of

SSFOA National Headquarters.

SSFOA is an all volunteer 501(c)(3) tax exempt nonprofit public charity organization

Questions/Comments Pertaining To This Web site,
CONTACT US
SILVER STAR FAMILIES CALIFORNIA

STATE COORDINATOR

KATHY LANDESS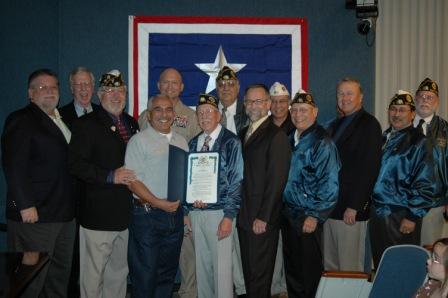 Rear Adm. Mike Shatynski, Vice Commander, Naval Surface Forces joined the Whittier City Council Feb. 24 in proclaiming the first of May as Silver Star Banner Day, recognizing local combat-wounded veterans. Shatynski said the sacrifices that military members continue to make every day ensure the safety and security of the nation. "It's that sense of service to our country that makes us strong," he said. "They're just carrying on a legacy passed to them by our veterans."

SIT REPORT

Military Retiree Appreciation Day

Clovis, CA - March 7th

Well, the day didn't start off the best.  I went off and left my display board at home.  But it worked out OK.  After the results of the day, I decided I need to redo the display.  Plus I made notes of things I want to do differently with the next event like this.

Got my work cut out for me here in this state - spoke to 75-100 veterans/spouses and NO ONE had ever heard of SSFoA before.  Guess I could call it "job" security, huh?  ;-)  The only person who had heard of us was the rep from NAS Lemoore and she had us a bit confused with Operation Life Transformed.

Our PTS(D) Awareness Campaign brochure engendered quite a bit of interest.  Had some very positive conversations with a few veterans and their spouses.   

Met alot of local reps of MOPH, VFW, NAUS, NAS Lemoore, etc. 

I'm pretty sure I will be getting further communication from the VFW chapter in Atwater, plus from the rep from NAUS, as well as the rep from NAS Lemoore.  Also, we'll probably get at least a couple of banner requests judging by the conversations I had.  The coordinator for this event asked us back for next year so I would say the day was a success.

Kathy


Silver Star shining for sacrifice, honoring wounded, ill and dying members of our Armed Forces, and bringing remembrance to those so deserving of our thanks.

We will never forget . . . WELCOME HOME!