The Silver Star Families of America has one mission:  To remember, honor and assist the wounded and ill of our armed forces from all wars.

To remember our wounded and ill we sponsor Silver Star Service Banner Day every May 1st.  We ask the President, the States, Counties and Cities across America to issue proclamations and hold ceremonies for our wounded and ill.

This year we needed help getting the word out and we asked our brothers and sisters at the Marine Corps League, the Veterans of Foreign Wars, The Forty and Eight, the Conference of Mayors, The League of Cities, the National association of Counties and you came through for us; and more importantly you came through for those who have given up so much for us.  We at the SSFOA thank you.

So far 40 States and over 1150 Cities and Counties all across America have signed on to hold ceremonies and remember our wounded and ill.  (Over 700 of them have made the day permanent) Silver Star Service Flags are flying everywhere and Banners are hanging in windows.

This is not simply extraordinary but it is historic.  It is the biggest grass roots "thank you" in the history of this country.  The sacrifice of the ill and wounded will never be forgotten.  Patriotism is alive and well in this great nation.  And as long as we remember that we can survive and come out stronger than ever.

Admiral Mullen, the Chairman of the Joint Chiefs of Staff expressed his thanks to all who participated. 

Senator Akaka, Chairman of the Senate Committee on Veterans Affairs stated, "Thank you for all your efforts to honor the nation's service members and their families."

This was the result of many volunteers, working for over 7 months to accomplish and I can not express the gratitude I feel for them.  Their service will not be forgotten.

The Governors, the County Commissioners, the Mayors and Selectmen; City clerks, County Clerks, the citizens; we thank you.

The effort has been so successful that we are going to accept proclamation all year long until next May 1st and beyond if we must until we reach the 5000 city and county mark.

I was explaining to one of our young wounded kids in a VA hospital about all the people who had come together to remember him and he had a look of astonishment on his face and he hesitated for several seconds with tears in his eyes.  He finally looked up and said, "How can I let them know that I appreciate and love them all?"

I said, "You really don't have to.  America is thanking YOU."

He said. "I know, but how can I say thank you back to so many people?"

I said, "Son ------ you just did."

NEVER FORGET AND GOD BLESS ALL

Steve Newton

Founder

Silver Star Families of America

.............................................................................................................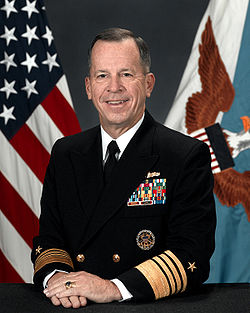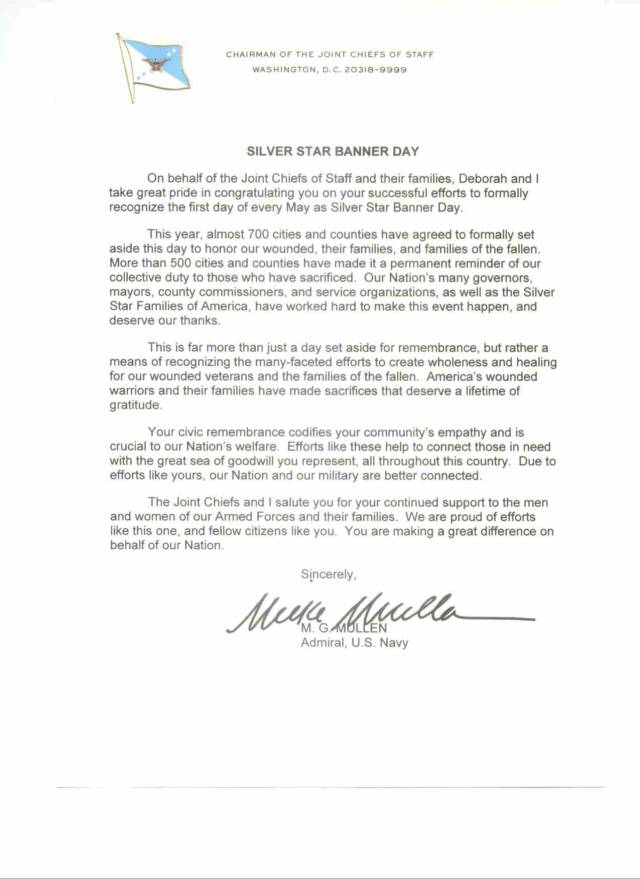 The Silver Star Families of America Receive Rare Tribute from the

United States House of Representatives

In Honor of the Silver Star Families of America

Honorable Roy Blunt (Extension of Remarks)

Honorable Roy Blunt

7th Congressional District, Missouri

In the United States House of Representatives

This Thirtieth Day of April, 2009

Roy Blunt:  Madam Speaker, I rise today to honor the Silver Star Families of America.  This organization was founded by two of my constituents, Steven and Diana Newton of Clever, Missouri.

On April 11, 2005, the Silver Star Families of America was founded.  Since that time, they have freely given thousands of Silver Star Service Banners to the wounded and ill or their families.  Their primary mission is that every time someone sees a Silver Star Service Banner in a window or a Silver Star Flag flying, that people remember the sacrifice made by so many for this State and Nation.  They have also established Silver Star Banner Day on May 1st of every year to honor the wounded and ill of the United States Armed Forces.

Steven and Diana Newton, along with national president Janie Orman and volunteers across the country, have donated close to 50,000 hours.  They have also donated over $40,000 in Silver Star Banner distribution and $30,000 in direct aid to homeless and near-homeless veterans, care packages, and support of hospitalized veterans and other programs.

To date, they have honored thousands of our wounded and ill with the Silver Star Service Banner.  I am proud to pay tribute to the Silver Star Families of America, their service to veterans across our nation, and ask my colleagues in the House to join me in doing the same.





A VERY SPECIAL

SILVER STAR BANNER DAY THANK YOU

SILVER STAR FLAG ®

SILVER STAR BANNER TM

THE NAME "SILVER STAR SERVICE BANNER" IS TM

Copyright 2005-2009

All Rights Reserved

Disclaimer:

The Silver Star Banner and Flag is in no way connected to the Silver Star Medal

The Silver Star Families of America is a non-partisan, not-for-profit charitable organization committed to supporting the United States Wounded Military Members and Veterans from all wars, past and present,  and honoring their sacrifice with Silver Star Banners.Content within this web site is the sole property of  The Silver Star Families of America"All photos and letters sent to the SSFOA become the property of the organization to be used in any way we deem appropriate." SSFOA reserves the right to conduct the day to day business of the organization as they deem appropriate. State Coordinators and Reps will be chosen at the discretion of  SSFOA National Headquarters. SSFOA is an all volunteer 501(c)(3) tax exempt nonprofit public charity organization. See your tax advisor. For more info on deductions see:
http://apps2.irs.gov/charities/contributors/index.html
Questions/Comments Pertaining To This Web site
CONTACT US