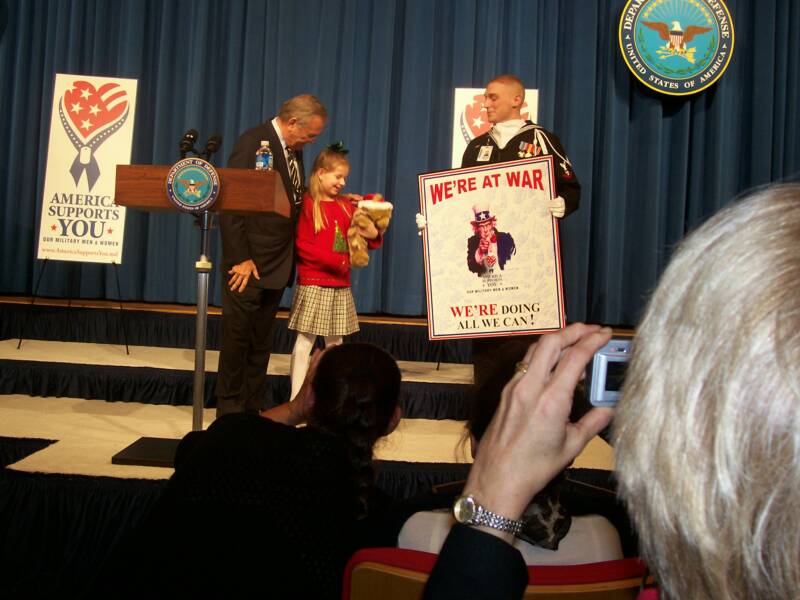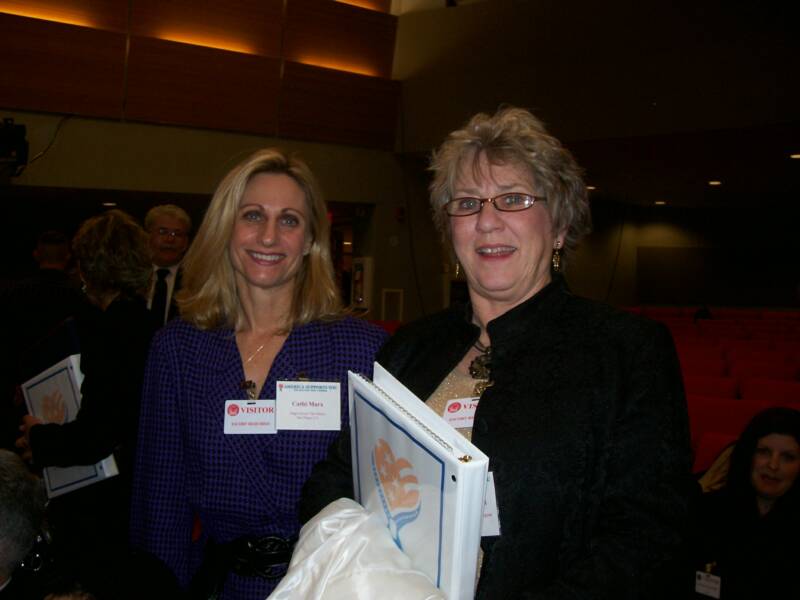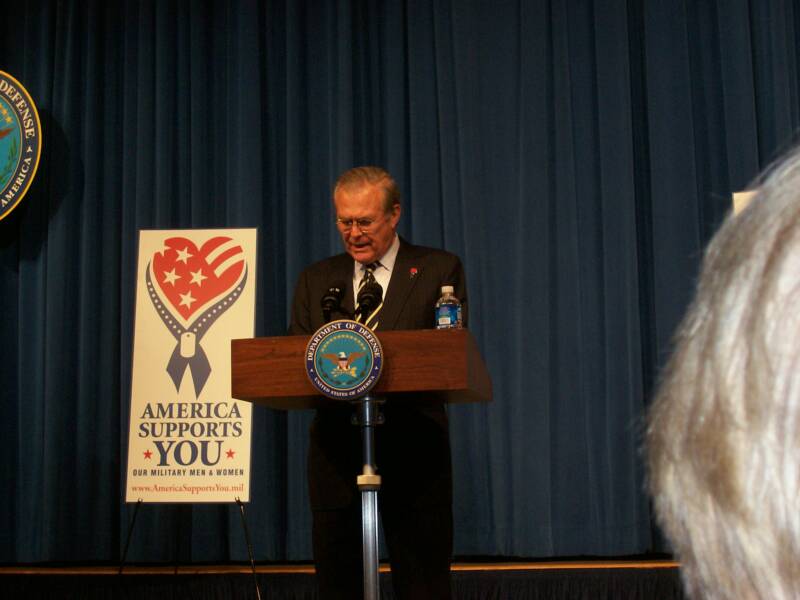 The Silver Star Families of America

in Washington DC 2008


December 13, 2006

Vice President, Janie Orman and SSFOA member, Stephanie Orman, attended the America Supports You meeting at the Pentagon on Wednesday, December 13th on behalf of  Founders, Steve and Diana Newton and the organizations 125 plus members.  SSFOA was among the eighty volunteer organizations  dedicated in supporting and assisting men and women of our Armed Forces. From sending care packages, to collecting cell phones in exchange for phone cards, to donations of protective eyeware, or honoring our wounded with Silver Star Banners, each and every group was dedicated to making sure our troops know that America is behind them one-hundred percent.

The morning began at 5:30 AM with breakfast and time spent meeting other organizations and an early morning tour of the White House. SSFOA members were then escorted to the Pentagon along with the other many volunteers.

Allison Barber was first on the agenda and began by encouraging the groups for their efforts and spoke on ASY's plans to help grassroot organizations in 2007.

Brig General Mark Schissler USAF followed by speaking about the War on Terrorism.

Secretary of Defense Donald Rumsfeld then took the platform and was welcomed with a standing ovation. Though Mr. Rumsfeld  had a full day of meetings, Allison Barber said he was determined to find time to visit and speak with the support organizations. He encouraged and thanked the volunteers for their efforts to help the troops and then opened the floor for questions.

After lunch, the volunteers were divided into groups to network with each other. During this time, ASY Representative, Stephanie Linder, asked the groups to offer suggestions how ASY can better help the organizations in the future.

The day concluded at 3:00PM with many new contacts, ideas, and much encouragement to continue to help our men and women in the US Armed Forces.

On Thursday, SSFOA met with  Alec Petkoff, Assistant Director for the National Veterans Affairs and Rehabilitaion Commission in DC, and discussed possible support from the American Legion for the Silver Star Banner and Flag efforts.

The Silver Star Families of America were represented in Washington, DC


Copyright 2005-2008

All Rights Reserved

Content within this web site is the sole property of

The Silver Star Families of America

"All photos and letters sent to the SSFOA become the property of the organization to be used in any way we deem appropriate."

SSFOA reserves the right to conduct the day to day business of the organization as they deem appropriate. State Coordinators and Reps will be chosen at the discretion of

SSFOA National Headquarters.

SSFOA is an all volunteer 501(c)(3) tax exempt nonprofit public charity organization

Questions/Comments Pertaining To This Web site Contact Us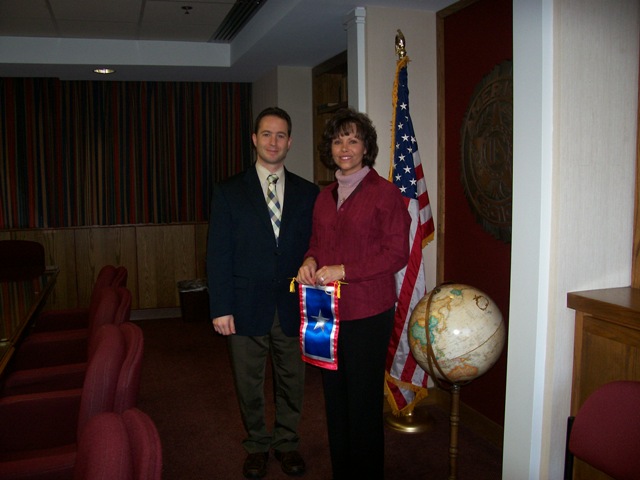 From the moment we arrived in DC, God poured out His favor. First, we visited Walter Reed and was escorted from room to room. We were informed of the injury, where they were serving when injured, age, and hometown. All were so very young, limbs gone, head injuries, one newly injured and waiting on his parents who had not arrived yet. Family, do not take lightly this mission set before you here at Silver Star Families. As we saw these precious Heroes, it hit home how much we have yet to do.  Each Hero was so very touched and moved by the meaning of the Silver Star Banner. One in particular pulled it to his chest and held it. Some shared with us what had happened to them, some did not. Most had their moms and/or wives there and all were deeply touched by the Banner and told us what it meant to them to have America behind them. Before we left, we asked if we could pray with them, all accepted our prayer. Tears? Yeah, tears from us all, the Hero, their family, and us as what these gracious and humble wounded warriors gave for America became clear.

We had the opportunity to meet and honor Maj Charles, who just had another of his numerous surgeries and came from the hospital over to meet with Patti Bader and SSFOA. We presented a Banner, certificate and coin to him.

We met with the Dept of Veterans Affairs, parked Terri's bright blue car in line with all the black government cars and was treated with respect for our mission. Peter Doughtery, head of the Homeless Programs, who had also been on O'Rielly's radio show and TV program the night before, could not have been nicer or more informative. In fact, he was supposed to be at another meeting, but gave us a half hour of his time. We were there over an hour and they listened to us, they wanted to hear about YOU and what you are doing for our wounded Veterans. They offered ways for us to help as VAVS members.

Then a wonderful meeting with Maj Mike, who is a true American Hero, whom you saw in one of the pics. He was wounded in 2005, and thought to be KIA until after sometime he spoke and was immediately given a cell phone to call home. He has a heart for our troops, our wounded, our country and the mission of SSFOA. He has agreed to help in any way and rep the DC area for us. Maj Mike will also be our Wounded Hero Spokesman for Silver Star Families.

We attended meetings at the Pentagon, met Soldiers' Angels, Patti Bader, and TONS more organizational leaders.

How can we ever say what an awesome privilege this past week has been to come face to face with out Kids? To see our mission happening before our eyes. Thank you, Family, for your heart, and your support and every effort you make to see our Wounded Heroes honored.

God bless

Janie Orman

SSFOA National President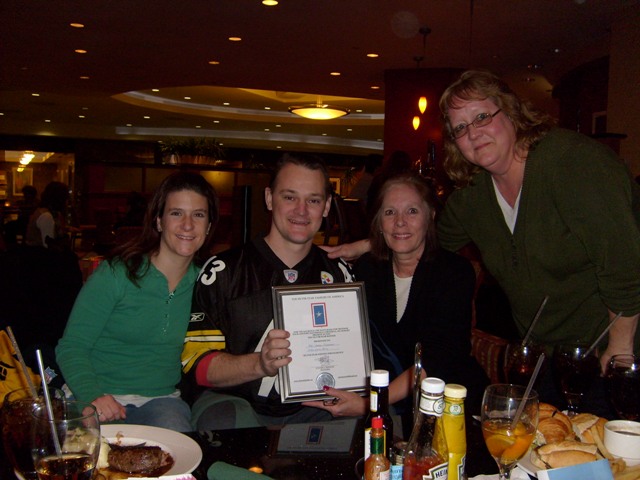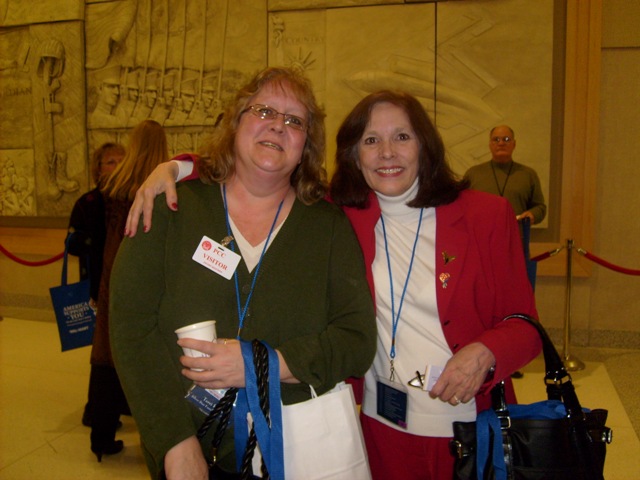 Soldiers' Angels, Patti Bader, along with SSFOA Vice President, Terri Rager, honor a wounded hero with the Silver Star Banner while in DC