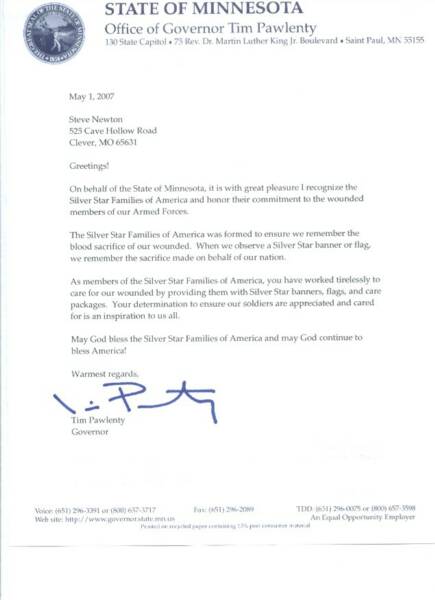 THE SILVER STAR FAMILIES OF AMERICA

Minnesota Gov Pawlenty signs letter of support for

Silver Star Day

S.F. No. 1359,  as introduced - 85th Legislative Session (2007-2008)   Posted on Feb 27, 2007

1.1A bill for an act

1.2relating to state observances; designating May 1 as Silver Star Families of

1.3America Day; proposing coding for new law in Minnesota Statutes, chapter 10.

1.4BE IT ENACTED BY THE LEGISLATURE OF THE STATE OF MINNESOTA:

1.5    Section 1. [10.581] SILVER STAR DAY.

1.6May 1 is designated Silver Star Families of America Day in honor of the wounded

1.7soldiers of this state and the efforts of the Silver Star Families of America to honor the

1.8wounded members of the United States armed forces. The Silver Star Families of America

1.9has worked tirelessly since its inception to distribute silver star banners, flags, and care

1.10packages to wounded service members and their families to ensure that the people of this

1.11state and nation remember the blood sacrifice made by those service members.

1.12EFFECTIVE DATE.This section is effective the day following final enactment.